Strapping Young Lad - Alien posted by
Greg
, Wednesday May 25, 2005 @ 07:47:00 AM
Artist: Strapping Young Lad (http://www.strappingyounglad.com)
Album: Alien
Release Date: March 22nd, 2005
Label: Century Media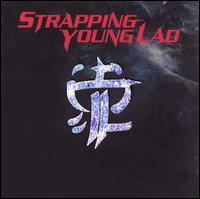 Rating: 9/10

Recommended Tracks: Skeksis, Love?, Shine, We Ride, Zen

Brace yourselves, ladies and germs - Heavy Devy's heavy band is back and more pissed off than ever. Strapping Young Lad's latest tour-de-force, Alien, exists as sort of a happy medium between the bombastic chaos of City and the cold, methodical brutality of SYL. You'll hear bits and pieces of each song that will have you recalling either the zaniness of the former or the pounding and plodding of the latter. However, Alien has more than enough chops to stand out on its own as a superb metal album, and SYL fans will find very little, if anything, to complain about with this excellent release.

To say that Devin Townsend, the madcap musical mastermind behind SYL, has some slight mental issues would be like saying that Michael Jackson has some minor nose and touching little boys problems, or Paris Hilton has a small issue with keeping her clothes on. Despite looking like somewhat of a cross between Gollum from Lord of the Rings and that rotting Sloth corpse that got left on a bed to die for a year in the movie Se7en, Townsend is among metal's most accomplished and celebrated figures today as both a performer and a producer. His avenues of dealing with his demons are through his wide variety of musical projects, which range from producing nationally-known metal acts such as Lamb Of God, to his softer, prog-oriented solo project the Devin Townsend Band, to the balls-out nuclear blast furnace of a sound that is Strapping Young Lad.

Love, lust, and all the bodily and biological urges associated with the intertwining of the two are the order of the day on this album, as Devin and co. gleefully attack this theme with reckless abandon on each song. Despite getting older and reportedly cutting back on his pot use, Devin certainly hasn't lost his potty mouth, as every single song is unfit for FCC-friendly radio airplay without the help of a trusty clean radio edits cd that we thankfully have in our posession. Even though the lyrics are intentionally silly (example: "What do you wanna do now, baby? / Do ya wanna have a fuckin' BABY!?!?) and at times will have you recalling conversations you and your friends once had in your 7th grade football locker room, the music itself is no laughing matter. This is some seriously heavy metal, yet through it all Devin still manages to maintain an almost childlike sense of wonder at what he does (Is that a xylophone I hear plinking along in the background of "Skeksis"? A children's choir harmonizing on "Posessions"?). Indeed, SYL's unique blend of furious thrash and death metal mixed with mad-scientist caliber experimentation with just about every instrument under the sun is sure to get your heart racing, your neck snapping, and your fist pumping throughout the entire album.

This album also does an excellent job of showcasing the two things that SYL is probably most well known for - the awe-inspiring vocal range of Mr. Townsend and the jaw-dropping drum work of drumming legend Gene Hoglan, formerly of Dark Angel and Death among others. Devin's vocals soar high above all the musical madness, serenading you with harmonic clean vocals one minute and then ripping and tearing your face off with violent shrieks of rage the next, the likes of which probably haven't been heard since John Bobbitt's unfortunate encounter with a kitchen knife a few years ago. Alien also gives Hoglan much more of a showcase for his immense talents, moreso than the somewhat plodding and calculating drumming last heard on SYL. He empties out his whole bag of tricks on this album with some of the finest metal drumming you'll ever hear, seamlessly melding double bass kicking and fill after fill into the backbone of each song that it is simply a pleasure to behold. Also not to be outdone, the guitar team of Byron Stroud and Jed Simon more than adequately fulfill their duties with a barrage of intricate riffs and pounding chords to perfectly mimic the insanity of their bandmates. Check out the album highlights "Skeksis" and "Zen" for examples of everything that's right in the world of metal today.

Like the two albums before it, Alien represents another dramatic sonic shift in the Strapping Young Lad stratosphere, as it is easily the most polished and mature-sounding of the three albums. One warning though... the last track, appropriately titled "Infodump" is just that - 14 and a half minutes of solid, unlistenable noise inexplicably tacked on to the end of the album just to piss people off I suppose. Despite ending the album with what more or less sounds like what you'd hear if you stood behind a roaring jet engine for a while, the actual 10 songs on this album are among the finest in SYL's brief but brilliant career, and will leave you hoping that Devin never gets his head screwed on straight so that he can continue to make music like this.

In fact, this album can probably best be summed up in two lines by Devin himself, as he wrote this on SYL's website describing the recording process - "Metal is our life; we are qualified to do little else and we can do crazy things with our instruments. We are too ugly to play pop, so we decided to fuck shit up again." And fuck shit up again, they have.

- Greg

Got something to say? Post it in the Atlanta Metal Forums!