Bloodbath - Nightmares Made Flesh posted by
Greg
, Wednesday March 9, 2005 @ 10:06:48 PM
Artist: Bloodbath (http://www.bloodbath.biz)
Album: Nightmares Made Flesh
Release Date: March 8th, 2005
Label: Century Media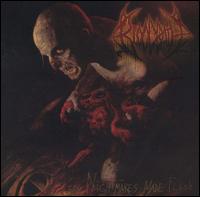 Rating: 10/10

Recommended Tracks: Cancer Of The Soul, Brave New Hell, Soul Evisceration, Outnumbering The Day, Eaten, Year Of The Cadaver Race

You've heard the expression "Don't qut your day job!" before, right? Well fuck that - all the members of metal supergroup Bloodbath should all quit their current bands, their families, and life in general just to keep making one amazing metal album after another. Originally conceived as a side project by members of Opeth, Katatonia, and Edge of Sanity to exorcise the heavier death-metal demons they don't get to play with in their softer, more mellow bands, Bloodbath has now put out two albums that are on par or better than any of their parent band's material, and head and shoulders above much of what is getting put out in the metal world today.

Despite changing vocalists and drummers, Bloodbath return stronger than ever in 2005 with Nightmares Made Flesh, an album similar in sound to 2002's Resurrection Through Carnage, but much more evil, brutal, and heavy than before. Hypocrisy's Peter Tatgren fills in more than admirably for vocal duties on this album, replacing Opeth frontman Mikael Akerfeldt, and in some ways this is more of an improvement since Tatgren is more used to singing for this down-and-dirty type of metal than Akerfeldt, whose voice is more suited for Opeth's epic material. Dan Swano steps out from behind the kit to take over bass duties for this album, and filling in for him is Martin Axenrot formerly of Witchery. The addition of Axenrot's furious drumming and blast-beat capablities enables the album to take on a much more violent, darker undertone than Carnage, and raises the quality of the music even higher than the already high bar set by Bloodbath's previous lineup.

If you're unfamiliar with the goal of Bloodbath's music, it's more or less an homage to the early 90's Stockholm, Sweden sound, where bands like Entombed ruled the day with fuzzy, downtuned guitar riffs constantly chugging and swirling about like a death metal maelstrom. Founding members Akerfeldt, Jonas Renske and Anders Nystrom of Katatonia, and Dan Swano of Edge of Sanity wanted to write a metal love letter to the sound they all grew up worshipping, and the side project Bloodbath was born out of this desire to re-create the early Stockholm sound. What started out as a side project has grown into quite a musical juggernaut, as Bloodbath have bucked the usual trend of all-star side projects being much less interesting than the bands that spawn them. This is exciting, relevant, powerful music rather than a bunch of seasoned metalheads jerking off on the side and passing it off as a new style that most of these side projects qualify as.

What you'll find on this album is 12 quality tracks of death metal that perfectly blend the old school mentality with new school brutality (and two old Bloodbath demo songs tacked on at the end for a special bonus). Each track on this album has something memorable on it that will make you want to listen to this album again and again. From the sickly crying wail of the background riff of "Outnumbering The Day" to the awesome breakdowns in "Brave New Hell" to the mid-tempo Florida death metal stylings of "Eaten", you'll keep hearing an amazing riff or a spectacular drum fill or a gruesome lyric that will make you either shake your head in disbelief of how good it is or will make you bang your head in total agreement that this is some killer shit you're hearing. In each track you'll hear influences ranging from Slayer to Morbid Angel to Entombed to bits and pieces of each member's own bands, but in the end it's all unmistakably Bloodbath. Admittedly some tracks are a little weaker than others, but picking a weak song off of this album woud be like picking the weakest guy out of the World's Strongest Man line-up - even if you pick the worst one, he could still pick up and bodyslam your ass. It's the same with the weaker songs on this album - they still rock harder than just about everything else you're going to hear that passes for metal these days.

To revisit the point made earlier, if these guys wanted to they could turn Bloodbath into a full-time gig and take over the metal world if they so desired - the material they come up with is simply that much better than what's currently being churned out by al the other pretenders out there. For now the first-ever (and so far only) Bloodbath show is confirmed for the Wacken Open Air Festival in Germany later this year, so it's unclear whether they want to put in the effort into full-time touring or not. Hopefully Bloodbath will decide to embark on a U.S. tour sometime soon, because this is that type of rare album that metal fans of all different genres can appreciate - a blend of speed, power, heaviness, and gore that will surely satisfy all palates no matter what your taste in metal may be.

- Greg

Got something to say? Post it in the WREKage Forums!